Mexican Town Expels 70 Protestants
from the Associated Press -- 31-JUL-98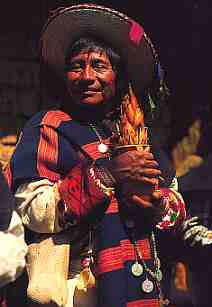 SAN CRISTOBAL DE LAS CASAS, Mexico (AP) -- One of Mexico's most
intractable religious dispute has erupted anew with the expulsion of about 70
Protestants from the Indian community of Chamula.
The expulsions, announced late Thursday, are the latest incidents in a 25-year
conflict that has seen thousands of people driven from Chamula because they
don't share the mix of Catholic and Maya traditions of most Indians in the region.
Authorities have sometimes brought a pause in expulsions, but they have failed to
solve a conflict that pits an Indian group defending its culture against other groups
demanding the right to freedom of religion.
``We want to return to our houses because we have nothing,'' said Mateo
Gonzalez Santis, one of the Protestants expelled from his home in the village of
Icalumtic. ``Our great crime is that with the word of God we are seeking peace.''
Those expelled this week are evangelical Protestants -- a rapidly growing group in Chiapas. And village leaders even place strict limits on what type of Catholic priests visit.
Chamula, just north of San Cristobal in southern Chiapas state, is populated by
Indians who have a deep attachment to a Tzotzil Maya tradition.
Its religion blends Catholicism with Mayan beliefs and practices, which include the sipping of a potent alcohol called posh during prayers in the township's only
permitted church.
Many Protestants and some foreign Catholics object to mandatory village taxes and duties to support religious festivals involving mass drunkenness.
Critics also complain that town leaders' insistence on unity extends to demands
that all support the governing Institutional Revolutionary Party.
Past expulsions have sometimes involved beatings, house-burnings and rapes.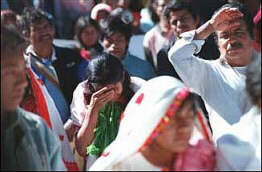 Refugees from the village have often clashed with Chamula loyalists, sometimes
with riotous battles on the edge of San Cristobal. In 1994, villagers killed three
Evangelicals who tried to return home.