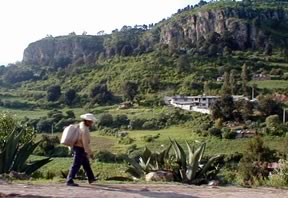 In 1990, Protestants represented 4.2 percent of the 84 million Mexicans over the age of 5. In 2000, the figure had jumped to 7.3 percent, according to Mexico's census bureau.
While Mexico's constitution guarantees freedom of religion, that right is rarely enforced, analysts say. Instead, converts find themselves forced off communal lands, many of which are controlled by Catholic community leaders.
In Hidalgo, a big wave of conversions started in the early 1990s, fueled in part by migrant workers who had been exposed to various Christian sects while working in the United States, and who returned home to spread their new beliefs.
About three weeks ago, authorities said, Catholic villagers burned down the houses of five evangelical families in the mountain town of Huejutla.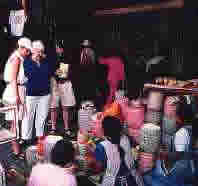 Evangelical leaders here fear that the region could go the way of the state of Chiapas, where disputes between religions have resulted in murders and displaced communities. Those conflicts fueled the 1994 indigenous uprising in the impoverished southern state.
''This is a warning bell for the whole region,'' said Alejandro Hidalgo, the pastor of the Pentecostal church in Ixmiquilpan, a neighboring city where the evangelical residents of San Nicolas attend services. He said the evangelical community in this area has grown over the past five years from 5,000 to 10,000 members.
He and other evangelical leaders also blamed the federal government, now under control of Fox's pro-Catholic National Action Party, for not doing more to protect Protestants' rights. Fox angered many non-Catholics and liberals when he broke with Mexico's historic secular tradition and began his televised inaugural events by attending Catholic Mass. Critics said the move may have emboldened more radical Catholics to step up their campaign against Protestant conversions.
''What's worrying is that pluralism isn't seen as something normal, particularly in rural and indigenous communities,'' said Roberto Blancarte, the federal government's former chief adviser on religious affairs.
He said such conflicts may become even more common now that a controversial indigenous rights law took effect last month, granting community leaders more power to enforce local customs.
Although Mexico's constitution bans religious discrimination, many leaders often use ''tradition'' to justify excluding women and non-Catholics from local leadership posts.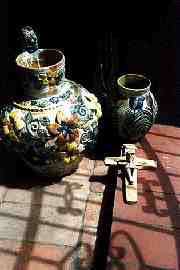 ''They don't understand that these customs don't take precedence over individual rights,'' Blancarte added.
The San Nicolas conflict centers mostly around a yearly festival for the town's Catholic patron saint, an extravagant affair held in September for which the community spends tens of thousands of dollars on fireworks, food, and home-brewed liquor. Every year, the festival is hosted by different residents, known as mayordomos, who each spend as much as $7,000 on festivities.
The evangelicals have refused to participate in the festival, which they denounce as ''pagan.'' They say their religion bars them from drinking - which is at the heart of the festival - and from joining in Catholic ceremonies.
Lugo, who argues that the festival has little to do with Catholicism and everything to do with ancient Otomi traditions, estimates that each Protestant family in town owes $8,000 for its share of the festival. In March, he cut off water service to 36 evangelical families who had not paid. He also vowed to evict them from their land if they didn't pay up by June. He has not yet carried out that threat.
The mayor is unapologetic. He has stood his ground in a series of meetings with federal officials, who have sought unsuccessfully to mediate the conflict.
''This is not a religious conflict,'' he said. ''It's about being part of a community. If they were in the majority, we would have to support them.''
Lugo's view has found support in a radical minority of the town's 10,000 residents, who resent what they see as the evangelicals' holier-than-thou attitude.
''They go to the United States as Catholics and they return evangelicals,'' said Amalia Acosta, whose cinderblock house faces the town cemetery, where evangelicals are not allowed to bury their dead. ''Every community has its traditions. If they don't want to participate, they should just go.''