Señora Ocaña's Salsa Verde Recipe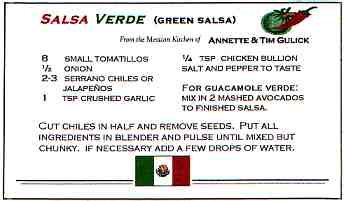 If you're looking at the first ingredient - TOMATILLOS - and thinking, "What are tomatillos and where in the world will I find them?" don't worry, we've found them in most large grocery stores in the U.S. Check in the vegetable section. They look like little green tomatoes with a papery leaf covering the outside.


This is a tasty and different salsa, perfect with all red meat, pork, chicken, and any kind of fajita type thing. It's great with tortillas and cheese too.


¡Enjoy!